---
Virtue and the Way of the World
XHerakleitos - 5/14/2013
New Atheism has decided to target all religion, religion as such, regardless of time and place. On the one hand, they attack an abstract concept - sure in the background assumption of a pure distinction between science and religion (the other is purely opposite). And yet, when it suits, they shy away from attacking religion in its totality, apparently convinced they are safe in the assumption that what Pat Robertson, Tim Tebow and Osama Bin Laden say religion is is good enough for them.
We should look at the results and the path of the New Atheism and make bets on where it's going! What does it look like when, angered by simpletons, a movement gets all stoked up in a fit of purity to attack all religion whatsoever - and then conveniently defines its opposition in terms of buying into the same premises of a temporally and historically limited practice, the one most suited to being blown out of the water, and then sits back and gloats as if it had scientifically exhausted the phenomenon and thereby won the fight?
...the figure of New Atheism shifts back and forth, finding the matter at hand at one moment in religion per se and yet, at another moment, in religion as it presents itself to us right now. At one moment, all religion is reduced to the same essential threat - the same target which we are enjoined to attack - but then (inevitably) when it amps up one manifestation of this threat (say Islam) as uniquely different, it slings charges of "the fallacy of false equivalence" at anyone who would question the logic of such a determination. What are we to make of the near simultaneous embrace of equivalence and its condemnation - of sameness and difference?
>Read More, regarding Atheism and Metaphysics<
---
Recourse to Definition
Bentley - 4/20/2013
Lately I've noticed a weird, reactionary schtick in the face of the recent phenomenon of marriage equality. Rush Limbaugh & company - even some ostensibly serious dude on Meet the Press recently - lamenting the "fact" that they lost the battle once they allowed people to redefine basic terms. What is this weird, ad hoc impulse? Hold up common, conventional definitions, pull out Webster's as if such a move were not comedic, in some worked up oblivion to the fact that inquiry (and therefore argument) has crashed into a different realm altogether.
The notion that marriage is "defined" somewhere. Weird: do they mean by history such that an anthropological, evolutionary approach to the empirical manifold would result in a simple definition? Do they mean defined in some a priori manner, and if so, by what and/or by what mode do we have access to that truth? Do they mean to say, in either case, that such a recourse to definition has any relevance in a political/constitutional frame?
>context<
---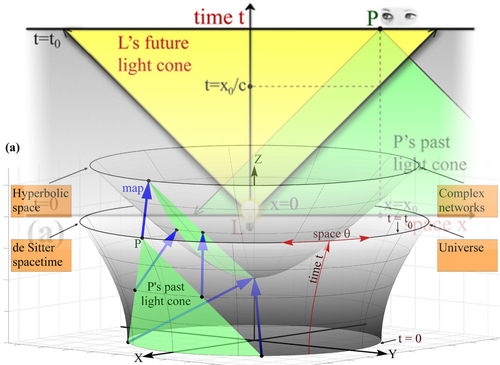 "Eerie similarity between networks large and small"
Network Cosmology >>
Prediction and control of the dynamics of complex networks is a central problem in network science. Structural and dynamical similarities of different real networks suggest that some universal laws might accurately describe the dynamics of these networks, albeit the nature and common origin of such laws remain elusive. Here we show that the causal network representing the large-scale structure of spacetime in our accelerating universe is a power-law graph with strong clustering, similar to many complex networks such as the Internet, social, or biological networks...

Our results may also have important implications for cosmology. In particular, de Sitter causal sets have exactly the same graph structure that maximizes network navigability. Translated to asymptotically sparse causal sets, does this property imply that the expanding portion of de Sitter spacetime (t > 0) is the spacetime that maximizes the probability that two random Planck-scale events have an ancestor in their common past? If it does, then this uniqueness of de Sitter spacetime may lead to a different perspective on the cosmic coincidence problem, as well as on dark energy, possibly casting the latter as a phenomenon emerging from certain optimization principles encoded in the causal network structure. >continue<
Brain structure, social networks, the internet - and the accelerating expansion of galaxies - all may point to some yet unfathomed universal principle according to the authors above.
NBC's science write-up cashes out the bottom line as: "Universe may grow like a giant brain," which apparently could equally mean that brains or other complex biological systems may grow like the universe. Heady and expansive stuff - and possibly prompting an imaginative leap to the relevance of recent reports that dark matter is the thread connecting galaxy structures.
I seem to recall the ancient Greeks regarded the cosmos as a ζῷον (zoon, animal) rather than an indifferent, lifeless realm of objects. Geocentrism notwithstanding, perhaps in some respects they had a clue. Presently a hunch tells me there may be some irony, perhaps a hint of anachronism, in the study proceeding under the aegis of "prediction and control" - looking for a "law" or a mechanism, for we may be witnessing contours of ethical activity or the echo of phronesis.
- Bentley

---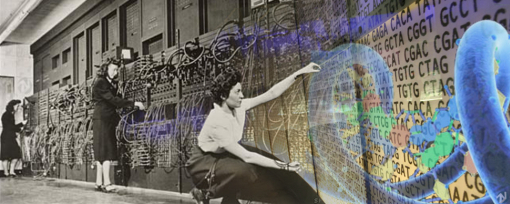 Biological "Transcriptor" heralds computing within living cells
Andrew Meyers | Stanford.edu >>
When Charles Babbage prototyped the first computing machine in the 19th century, he imagined using mechanical gears and latches to control information. ENIAC, the first modern computer developed in the 1940s, used vacuum tubes and electricity. Today, computers use transistors made from highly engineered semiconducting materials to carry out their logical operations.

And now a team of Stanford University bioengineers has taken computing beyond mechanics and electronics into the living realm of biology. In a paper published March 28 in Science, the team details a biological transistor made from genetic material — DNA and RNA — in place of gears or electrons. The team calls its biological transistor the "transcriptor." >continue<
paper: Amplifying Genetic Logic Gates
related: Totally RAD: rewritable data in DNA | Computing with Soup
Molecular Computation of Solutions
---
Sea Change
Bentley - 3/26/2013
Today's Supreme Court coverage wouldn't be complete without reference to the "sea change" that's transpired in all of, what, four years. In that time "gay marriage" has surrendered its currency to the more rational frame of marriage equality.
So often this shift is cited as if opinion, popularity and demographic trajectories are important. They are, of course, when matters resonate at this scale. However, the odd point here - the queer thing, as it were - is the fact that the preponderance of recognition we see is all about the irrelevance of public opinion, about the irrelevance of any metaphysical posits on the nature of marriage or any physical grounding to the meaning procreation and reproduction. Reference to the Bible for instance, whatever the hermeneutic, or whatever amperage of popular opinion about such things, is irrelevant.
The only metaphysical conceits which matter are those peculiar to the Constitution - a narrative centered on rights and our civic duty to carry on serious political discourse in the sphere of a shared rationality.
At that level, we've gone through the three stages Schopenhauer identified, ridicule, violent opposition, arriving at acceptance in the light of self-evidence.
---

When I ask myself what I believe, why I concentrate on events in Syria or who I support, the question never manages to come out that way. Perhaps it's a matter of understanding the horrifying scene in Syria as "the nothingness of that from which it results." Charged with a dose of naivete and wound up with the scent of historical change in the Arab Spring, Syrians took to the streets in peaceful protest. They were met with such brutal and on-going violence as to both cut the sinews of any legitimacy Assad may have possessed and spark a ramifying deluge of national outrage.
We know there are significant chances Syria may devolve into a non-functional, sectarian basket case on the order of Somalia. Druze, Christians and Shia fear the collapse of the Alawite regime - and therewith protections against a Sunni majority. Secular, Sufi and moderate Sunni forces must deal with Salafists, Jihadi Volunteers from Saudi Arabia, and the evolving spectre of al-Qaeda among ranks of the Rebels.
Given the emerging complexion, I can't imagine marginal Western aid as cashing out in a shit tonne of truck once Assad inevitably goes down. Our de facto Empire, all it's proxy forces, is on the ropes (regardless of any "delight" experienced by the myopic). When Assad does go, the aftermath likely amounts to little solace for Washington or anyone else. Iraq, Jordan and Lebanon may suffer increasing jolts of destabilization for a cherry on top.
As we also see in Tunisia and Egypt, in the Sahel where Gaddafi's collapse indirectly arms insurgents as far away as Mali, the Arab Spring looks to have been overly tinged with the immediacy of rosy conceits. So although I strongly suspect the maw of chaos and nothingness will open further, I support the struggle of the people… I hope Syrians and people all over the region can draw upon the strength of their history - see forward and carry a relevant pulse of Islam along - and make it through in a way that makes for real freedom.
But the real courage for turning that corner only comes from traffic with the negative and looking death in the face. Though no guarantee is vouchsafed beforehand, for them the task will be a determinate negation writ large.
Bentley
---
Interesting Times
Bentley - 3/8/2013
Today North Korea, in response to a new sanctions regimen, threatened a preemptive nuclear strike against the US.
On Fox News the primary emphasis was on Obama "jumping the shark" by negating White House tours under the terms of sequester. All the energy of solemn "analysis", Gods help us. The redolent absurdity of prodigious psychological projection, all the ad hoc opportunism - the infinity of Reason turned and contorted into the service of sham and satisfaction, seemingly far beyond any fear of being seen as a comical transgression.
---
"Consciousness… is something that that goes beyond limits, and since these limits are its own, it is something that goes beyond itself. With the positing of a single particular the beyond is also established… Thus consciousness suffers this violence at its own hands: it spoils its own limited satisfaction. When [it] feels this violence, its anxiety may well make it retreat from the truth and strive to hold on to what it is in danger of losing. But it can find no peace. If it wishes to remain in a state of unthinking inertia, then thought troubles its thoughtlessness, and its own unrest disturbs its inertia. Or, if it entrenches itself in sentimentality, which assures us that it finds everything good in its kind, then this assurance likewise suffers violence at the hands of Reason, for, precisely insofar as something is merely a kind, Reason finds it not to be good. Or again, its fear of the truth may lead consciousness to hide, from itself and others, behind the pretension that its burning zeal for truth makes it difficult or even impossible to find any other truth but the unique truth of vanity… This conceit which understands how to belittle every truth, in order to turn back into itself and gloat over its own understanding, which knows how to dissolve every thought and always find the same barren Ego instead of any content - this is a satisfaction which we must leave to itself, for it flees from the universal, and seeks only to be for itself."
- Hegel, Phenomenology of Spirit §80
Here, with a rejoinder echoing the core Platonic/Socratic counter to mere sophistry, Hegel begins a key shift, which will punctuate the Introduction, toward a movement of thought prefiguring elements of chaos theory and the reiterative dynamics of fractal geometry.
---
Luchador Madness
Citizen Zed - 2/27/2013
The "Tea Party" Wrestler Glenn Beck Hates
Zeb Colter, an anti-immigrant character from World Wrestling Entertainment (WWE) that has recently drawn the ire of right-wing pundits like Glenn Beck, would be right at home in the conservative media. Many of Colter's bigoted and flawed arguments have been the right's stock-in-trade for years.

Beck targeted the Colter character on his radio show, arguing that Colter is "demonizing the Tea Party." Beck also accused the WWE of "mocking me for standing up for the Constitution." Beck's co-host Stu Burguiere complained: "It seems that the villain, the guy you're supposed to hate, is this stereotype of a conservative that I've never met." >continue<
Tea Party types don't like the analogy to professional wrestling. Not when it makes itself so patently obvious. That strikes too close to home, too close to unveiling Fox and Talk Radio as a silly soap opera for old men and the intellectually bereft. Ironically, now mock combat redoubles in a "warp your head off hold", as the luchadores square off yet again.
All we need now is the Chupacabra, Anne Coulter, pimping around the ring, hoisting round numbers and gratuitous cleavage.
---
2/27/13 - Deficit Debate Subterfuge Exposed
Jon Queally | Common Dreams >>
A new online resource launched on Thursday aims to show that behind the scenes of the ongoing fiscal battles in Washington—including the current fight over 'sequestration'—a billionaire-funded and CEO-backed media campaign is operating as an 'astroturf supergroup,' using its outsized pocketbook and influence to peddle long-discredited policy prescriptions for the ailing economy.

According to a new joint investigative project between the Center for Media and Democracy and The Nation magazine, the 'Fix The Debt' campaign—which launched itself last year in the midst of an earlier episode in the "fiscal crisis charades" that have plagued Washington since the Republicans regained control of the House of Representatives in 2010— is "one of the most hypocritical corporate PR campaigns" created in Washington in decades.

This group is comprised of an all-too familiar chorus of people—culled from a cadre of politicians and wealthy elites—who spend their days voicing the mantra of 'deficit reduction' and 'entitlement reform' as a way to liberate the federal budget from debt and kick start the economy with promises of jobs and growth.

And according to the new investigation—in addition to being wrong most of the time—the members of the group share two other common bonds. Wealth and corporate power... >continue<
As much should be expected when so much question begging is so damned obvious.
---
2/25/13 - The death of a country
Economist >>
AFTER the first world war Syria was hacked from the carcass of the Ottoman empire. After the second, it won its independence. After the fighting that is raging today it could cease to function as a state....

Syria looks increasingly likely to fall prey to feuding warlords, Islamists and gangs—a new Somalia rotting in the heart of the Levant. >continue<
The piece pushes the notion that some kind of intervention is necessary. Short of full scale diplomatic consensus involving Russia, China, Turkey and possibly Iran, this sentiment while noble appears to suspend disabuse - as if the demonstrable disasters of Iraq and Afghanistan never happened, either in terms of woeful execution or collateral damage in the wide constellation of Muslim opinion.
The tragedy is real. And America's weak image and financial limits are a part of that, for they in most respects self-imposed.
related: zeitvox/syria | No The Economist, Syria is not dead
---
"A good account of the Internet would never need to mention that dreadful word at all. This stringent requirement might uproot most of our Internet thinkers from the plateau of banal and erroneous generalizations where they have resided for the last two decades; after all, it is the very notion of "the Internet" that has allowed them to stay there for so long. Now that Internet-centrism is not just a style of thought but also an excuse for a naïve and damaging political ideology, the costs of letting its corrosive influence go unnoticed have become too high."
- Evgeny Morozov | Why Social Movements Should Ignore Social Media, a book review of Steven Johnson's "Future Perfect:
 The Case for Progress in a Networked Age"
---
2/18/13 - Turk Constitutional Crucible & Erdogan's Ambition
Reuters >>
Ascending to an executivhttp://www.guardian.co.uk/world/2013/jan/17/syria-crisis-alqaida-fighters-true-colourse presidency would cement Erdogan's position as Turkey's most significant leader since Ataturk, but it will require astute political maneuvering to win support from either Kurdish or nationalist opposition deputies.

"Erdogan's charisma is both an advantage and a liability. It's an advantage because he possesses powers of persuasion; it's a liability because of his over-confidence, his aversion to criticism," said Ihsan Yilmaz, professor of political science at Fatih University in Istanbul. >continue<
Turkey is undergoing a constitutional redraft with a critical deadline in April. A major revision aims at replacing the parliamentary system with an executive presidency. Current PM Tayyip Erdogan, barred from repeating the as prime minister under the current system, eyes the new post. Turkey, under Erdogon and his foreign minister Davutoglu, has become a major player in the region - both economically and diplomatically, significantly impacting affairs vis a vis Syria, Iran, Iraq and the unfolding Arab Spring.
related: The Sultan of Istancool | Triumphant Turkey?
---
Charlemagne Dynamite - 2/11/2013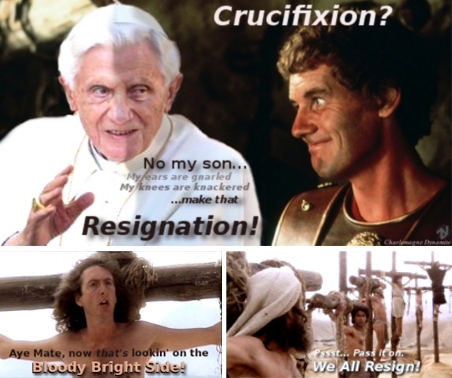 ---
2/5/13 - From Arab Spring to global revolution
Excerpt from "Why It's Still Kicking Off Everywhere" | Paul Mason >>
To survive, the young have become a generation of drifters, reliving the plotlines of movies from the 1930s. Without some massive and cathartic turnaround, the generation in their 20s, in the west, will never accumulate pay, conditions or savings at the level their parents did. What they are accumulating is resentment....

Here, there is a parallel with the 1930s that is worth exploring. The first four years of the crisis, from 1929 to 1933, were not marked by effective mass resistance. That happened later. The early 1930s saw social disorientation, catastrophic policy choices, dysf.unctional and autocratic governments and the rapid rise of the fascist right.

It was Hitler's rise to power in 1933 that focused minds, amid the fear that something similar could happen in France, Austria and Spain. At the same time, Roosevelt's New Deal signalled the possibility of a progressive government after all. The events of 1933-34 forced movements that had been socially weak, divided, heavy on rhetoric and self-obsessed, to, basically, get real. Fear was the key.

Although you can – as the anarchist slogan says – "live despite capitalism", you can't live "despite" fascism, genocidal racism, extreme sexual counter-revolution and war. As the gears of mainstream politics and economic crisis clash and grind above their heads, I would expect this realisation to be the guiding factor in where the movements that began in 2011 turn next. >continue at The Guardian<
---
An Inaugural Surmise
XHerakleitos - 1/21/2013
"While these truths may be self-evident, they have never been self-executing."
- Barak Obama, 2nd Inaugural Speech
Making real, bridging meaning, recognizing the heart of the matter in action. In Obama's speeches one can catch the scent of Hegel. During the campaign of '08 we hear the Swabian echo of "pure self-recognition in absolute otherness" punctuate his "A More Perfect Union" speech. There, a "single moment of recognition...is not enough" but "where we start" and where "perfection begins".
Today, fidelity to founding principle finds itself not in sentimental supplication to inert ideas, finished "for all time", but rather in a duty requiring "new responses", an action and a work, a constant task of making real:
"...if the fear of falling into error sets up a mistrust of Science, which in the absence of such scruples gets on with the work itself... it is hard to see why we should not turn round and mistrust this very mistrust. Should we not be concerned that this fear of error is the not just the error itself?" (PG §74)
Today we hear the same call to move beyond a false sense of perfection into an adroit movement whose certainty resides in a stubborn resolve to dust itself off, to pick itself up in response to shortcoming, confident that real perfection gets annealed through pain and experience. Indeed, "we are made for this moment", for "engagement can more durably lift suspicion and fear." And it's this moment that makes us.
Exceptionalism turns neither on a regard for the simple immediacy of a given image nor the idolatry of accomplishments past. It comes in the guts to liberate ourselves from semblance, in an active, engaged knowing that "we cannot mistake absolutism for principle, or substitute spectacle for politics...we must act, knowing that our work will be imperfect."
Who knows if intent or scholarly affinity energize this echo. Perhaps what shows itself cannot be said. And yet, something appears to be "self-sundering or stepping forth", sounding between the lines.
---
1/15/13 - Scholars Break Down Paywalls in Tribute to Aaron Swartz

debate over academic freedom ignited
Academics in the United States and worldwide are paying tribute to internet activist Aaron Swartz, who committed suicide on Friday. Scholars tweeted out links to their published work, using #pdftribute. >continue<
"Science dare only organize itself by the life of the Concept itself" - Hegel
---
TB's Drug Resistant Threat
Bentley - 1/3/2013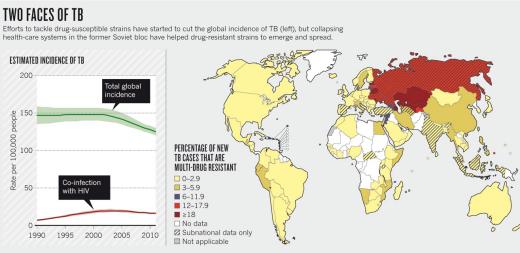 It was in Durban South Africa in 2006 when I first heard about an XDR-TB outbreak at Tugela Ferry. Looking down from a ridge at Inchanga I could see the M3 looking like an American Interstate all the way to Johannesburg 5.5 hours away. Minutes away, in the Valley of a Thousand Hills, was a huge population of people who were quite possibly 60% HIV positive. Dirt graves visible on hillsides, sometimes just noticeable on the side of the road, and small children with gums wasted by opportunistic infections typical of full blown AIDS were more tangible than hard data.
I shuddered to think of the upshot. The lowered immunological scenarios scattered around KwaZulu-Natal made the area a potential petri dish for something like XDR-TB. Get to Jo-burg airport, I thought, and it's in a pressurized cylinder on its way to god-knows-what major city.
According to an excellent piece in Nature, TB's Revenge, such apocalyptic imaginations may be overcooked when it comes to the "tale of two TBs". Yet, one thing we shouldn't shake is the need train anxiety into reasonable focus:
The growth of multi-drug resistance is an "escalating public-health emergency", says Grania Brigden, TB adviser for Médecins Sans Frontières (Doctors Without Borders) in Geneva, Switzerland: "With barely 1 in 20 TB patients being tested for drug resistance, we're just seeing the tip of the iceberg."

But scientists are careful to temper their alarm. In the past decade, researchers and policy-makers have fought for and won a reversal in funding and attention for TB. Several new drugs are in development, and progress is being made towards an effective vaccine.

"I do worry when people stand up at conferences and talk about MDR-TB and say it's a big disaster and the whole world is going to collapse. It's not that severe yet," says Tim McHugh, head of the Centre for Clinical Microbiology at University College London, who leads a team that is trialling one of the two most advanced candidates for new TB drugs. "The big anxiety is that if we don't act now, it will easily run away from us." >continue<
update (2/11/13): Doctors Struggling to Fight 'Totally Drug-Resistant' TB in South Africa
---
older posts >>